For english information click on the flag on the righthand sidebar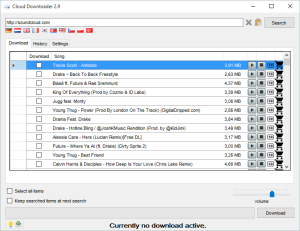 Hiermit hat der Cloud Downloader (ehemals Soundcloud Downloader) nun ein neues Zuhause gefunden. Aktuelle Informationen Updates und Downloadlinks werdet ihr von nun an auf dieser Seite finden. Solltet ihr Fragen, Anregungen oder Wünsche haben, hinterlasst mir einfach einen Kommentar.
Für alle, die den Cloud Downloader noch nicht kennen, habe ich nachfolgend noch einmal ein kurzes Video eingebunden. Ansonsten lässt sich der Sinn des Cloud Downloaders auch relativ schnell zusammenfassen.
Ihr öffnet den Downloader, fügt einen Link von zum Beispiel einem soundcloud.com-Song ein, und klickt auf Suchen. Danach zeigt euch der Downloader alle verfügbaren Songs an und ihr könnt diese dann mit einem weiteren Klick ohne Umstände herunterladen. Wenn ihr euch nicht sicher seid, welcher Song in der Ergebnisliste der richtige ist, könnt ihr mit dem kleinen "Play"-Button am rechten Ende der Tabelle direkt in den Song hineinhören.
Der Cloud Downloader ist und bleibt kostenlos. Wenn ihr Geld dafür bezahlt habt, verlangt es zurück und meldet den Verkäufer. Über eine kleine Spende freue ich mich dennoch immer, denn in solch einem Projekt steckt immer viel Zeit und Herzblut.
viele Grüße, Raffael
Du willst helfen? Dann gib doch eine kleine Spende ab.